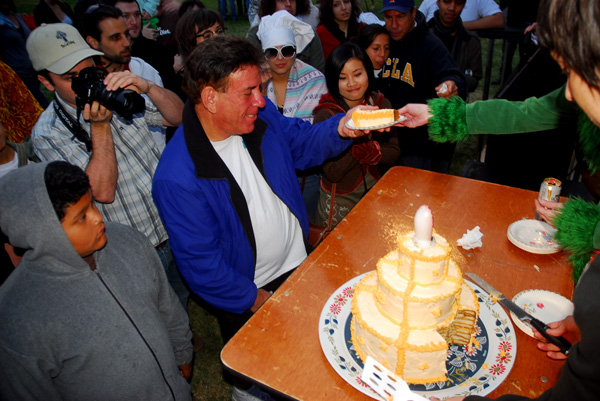 a cake made of grilled cheese sandwiches being served at 2008 1st 6th Grilled Cheese Invitational (photo courtesy of kevissimo)
April may be the dreaded tax month, and that's probably more the reason it's also Grilled Cheese month: quick, simple, comforting and cheap! And since three makes a trend, here's a trio of L.A.-area events dedicated to the dairy-ladened-sandwich for your cheesy noshing pleasure. Yum!
First up is

Clementine is celebrating all month long

with mash-ups from L.A. area chefs (Nancy Silverton of Mozzas, Evan Kleiman of Angeli Caffe, Jimmy Shaw of Loteria Grill) with wonderful rotation of chef-invented cheesy creations like

Oliver's Grilled Cheese

with pepperjack, soppresata and Calbrian peppers on white rye and

queso mahon with chorizo, quince paste and romesco

. A variety of other sandwiches with a cheese-themed-twist will be available as well (BBQ chicken with mozzarella, grilled garlic melt with parmesan, pastrami reuben with gruyere.) Surely something to look forward to every week. For full breakdown of the rotating specials this month (printed on beautiful LA-themed postcards), click here.
For the East-siders, Patinette at MOCA will offering an inexpensive build-your-own grilled cheese workshop: for $4, you can pick your bread (white, whole wheat, ciabatta, walnut-currant or rye) cheese (fresh mozz, gruyere, chipotle cheddar, fontina, brie, goat or Point Reyes blue) and sauce (whole-grain or yellow mustard, garlic aioli, basil pesto or yuzu aioli). For an extra buck or you can tack on extras liked Pullman ham, bacon, grilled onions or vine-ripened tomatoes, and $3 more will score you a bowl of its perfect accompaniment: tomato soup.
And of course, it's not Grilled Cheese Month in L.A. without mentioning the

1st 7th National Grilled Cheese Invitational

competition taking place on April 25 from noon to 5 p.m. As usual, there'll be three categories to enter in from the standard missionary style to the more creative kama sutra and the sugar-focused honey pot. It's $10 to compete for the cheesy glory, and $5 just to get in to taste and vote for your fave. Location, entry details to come soon but definitely save the date!